IT Training and Consulting Services
ABIS Training & Consulting provides specialised IT services which are offered as:
Knowledge transfer plays a central role in all our activities: whatever the service is, there will always be a knowledge transfer component!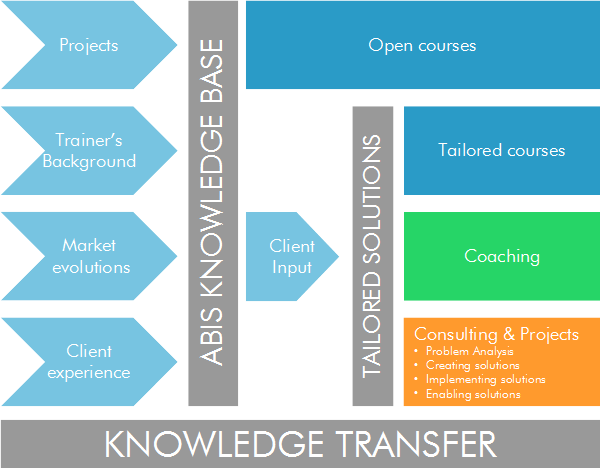 Training and Coaching
You can find a detailed overview of our different training and coaching approaches here.
Consulting and Projects
ABIS experts can help you solve company-specific technical or design issues within our Knowledge domains. Depending on the question at hand, we will offer a solution or we will present a migration or implementation plan that will allow you to reach a solution. These solutions are based on industry recognised 'best practices', combined with our experts' practical experience in the field.
If requested, we can also perform specific tasks at your site: installation and set-up, configuration.
As well as proposing a solution, we document and explain why a specific solution will be beneficial, in order to allow you to use this information in the future. We combine consulting activities with practical knowledge transfer.
Specific implementation:
short term assignments - a few days or weeks;
often partially remote, off-site: after a short study of the problem/issue/request, remaining activities (problem analysis, conclusions, etc) can be performed at ABIS;
Based on your requirements, our consulting services can also be implemented as an 'on-call' service. In this scenario, experts are available whenever you need them.
Consulting services
System auditing and documenting
Certainly in large companies, systems sometimes tend to evolve in irregular ways: mergers, migrations ... ABIS can help you analyse your current system processes and help you find opportunities for improvement.
Based on your requirements and existing technologies, we build a simple proof-of-concept. And we demonstrate how these technologies 'interact' - or not!
Technical projects
Often focused on architecture and infrastructure. How to integrate Java and web technologies with existing applications? What are the alternative integration scenarios based on the customer's needs? And how to implement them?
Often conceptual. Knowledge transfer is typically part of any project as well - explicitly, through formal courses organised as part of that project; or implicitly through a formal presentation at the end of the project.
Code reviews
Performance tuning
Our people are internationally recognised as experts on database performance and data delivery.
ABIS helps you in your search for talent: we can assess the technical knowledge of your (future) employees through formal tests and interviews. Based on these tests, we can propose a customized training plan to help you find a perfect match!
Besides our technical know-how, ABIS also has a clear view on education, because it is our core business.
We can help you with these issues:
How do you maximize 'return' on education?
How to organize training and knowledge management within your enterprise?
Map out individual training tracks.
At your Service!
The ABIS account managers are at your disposal! Their technical experience and background, as well as their knowledge of a number of your business processes offer a large number of advantages. In consultation with our and your technical experts, they are able to explain how ABIS can help you - or why we can't.
Do not hesitate to contact us:
Account managers:
Arnout Veugelen, Filip Descheemaecker (BE) +32-16-245610
Kris Van Thillo (NL) +31-348-413663