Travel Info ABIS Leuven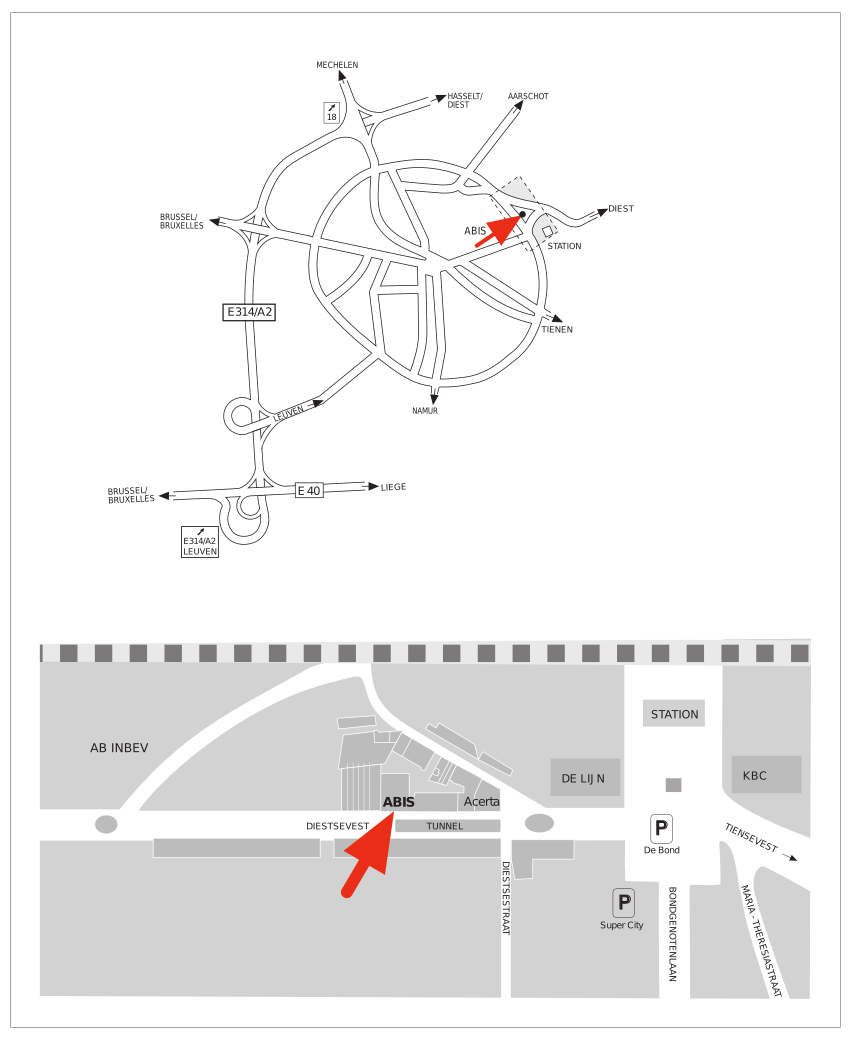 ABIS Training & Consulting - Diestsevest 32 box 4b - 3000 Leuven - tel. +32 16/245610
By train or bus:
Our offices are just a few minutes' walk from the Leuven train station an main bus station. Leave the station in the direction of the city centre to arrive at Diestsevest. Immediately turn right to reach ABIS (250 m).
By bike:
You can use the bicycle parking underneath our building (floor -1).
By car:
Take the E40 Oostende - Brussels - Liège road to the Leuven exit and the E314/A2
Take the E314/A2 to exit 18 to Leuven
Take the Mechelsesteenweg in the direction of Leuven until you arrive at the ring road around Leuven and turn left there
Take the ring road until you drive along Stella Artois/InBev and arrive at the Maria-Johanna-Artoisplein. Stay on the right there (direction Tienen) to find ABIS.
Car parks:
Just in front of ABIS, take the tunnel and park your car in the underground car park 'De Bond' (about 16 euro for 8 hours).
Stay right of the tunnel and drive to the Martelarenplein. There you turn right to the car park 'Kinepolis', Bondgenotenlaan 145-149 (approx. 15 euro for 8 hours).
Slightly further away are the Minckelers Parking (J.P. Minckelersstraat 94; approx. 6 euro for 8 hours) and Parking Diestsestraat (J.P. Minckelersstraat 35; approx.10 euro for 8 hours)
All streets in the vicinity of ABIS have restricted parking facilities ('blue zone' or payable, with limited parking time).
Attention:
A number of streets in the neighbourhood of ABIS are one-way. If you happen to take a wrong turn, it is not always easy to find your route again. We therefore advise you to make maximum use of public transport.
More information about accessibility and car parks in Leuven can be found on the website of the city of Leuven: https://www.leuven.be/mobility-and-transport.